Exhaust system gaskets reduce noise, prevent hot exhaust gasses from entering the vehicle, and aid in the maintenance of proper system pressure. The failure of exhaust gaskets may jeopardize both driveability and safety. Read More…
Exhaust Gaskets
Exhaust gaskets provide a seal on exhaust parts in vehicles to guarantee that when gases leave the engine, they stay in the exhaust system until they are expelled into the atmosphere.
What are EPDM Gaskets?
EPDM gaskets are chemically resistant and have strong electrical qualities. EPDM gaskets are rubber gaskets made of the same-named synthetic rubber.
How EPDM is Made
EPDM, a polymer, is made by causing a chemical reaction between its constituents. This chemical reaction produces a mixture of particles and clusters of massive, repeating molecules.
The chemical must be vulcanized or cured with sulfur after it has been generated. This is because the presence of diene in EPDM causes its polymer structure to change from saturated to unsaturated.
Vulcanization, which results in the production of crosslinks between the polymer chains of the molecules, is required to strengthen the rubber, which becomes more durable and less sticky after vulcanization.
Without the strength supplied by vulcanization, EPDM would be much more susceptible, break down more easily, and not last nearly as long.
Manufacturing of EPDM Gaskets
EPDM gaskets are often manufactured by die cutting. Die cutting is a cold-working procedure that involves cutting stock material using shears or other cutting tools. Cutting blades are almost entirely constructed of steel alloys like stainless steel.
Shearing and shearing-type activities are the most common sub-processes in die cutting. Shearing is the procedure that occurs when a maker uses straight cutting blades. In the meantime, if the producer uses a curved blade, the die-cutting procedure is similar to shearing.
"Dinking" is a standard die-cutting technique for making rubber gaskets of all kinds. Shears are used to cut webs of materials in this operation, called "clicking" in metallurgy.
Dinking necessitates using specific dies that are hammered or mechanically pushed into materials. Dinking dies and hollow cutters are two terms for the same thing. EPDM gaskets of diverse forms, lengths, widths, and depths are made using die cutting.
They can be worked in various forms after being cut, including rubber foam gaskets, sealant strips, and gasket tape. A sealant strip is a closed-cell material that blocks rather than absorbs components. As a result, it's ideal for waterproofing applications.
EPDM gasket tape is also constructed of a closed-cell rubber substance, so it is ideal for sealing tight and difficult-to-reach areas.
Properties of EPDM Gasket Material
At room temperature, ethylene and propylene are both hydrocarbons that remain gaseous. Polymers such as polyethylene and polypropylene are formed when they are mixed. EPDM may be made by regulating the polymerization process and adding the right amount of ethylene and propylene.
EPDM is manufactured using a technique that produces long molecular chains that give the material its improved elasticity. EPDM is unique among elastomers in that it may be made to resist extremely high temperatures while remaining flexible at very low temperatures. The material is also resistant to oxidation and ultraviolet light's aging effects.
EPDM has excellent mechanical qualities. It has a tensile strength of 7 to 21 MPa, making it stronger than silicone, which has a tensile strength of 5 to 10 MPa; nitrile, which has a tensile strength of 12 to 15 MPa; and neoprene, which has a tensile strength of 5 to 8 MPa.
EPDM rubber gaskets are more abrasion resistant and are formulated to withstand strong chemicals like acids and alkalis. EPDM gaskets are appropriate for applications involving hydrocarbon lubricants and petroleum compounds, which cause swelling in conventional gasket materials. Its heat-resistant qualities and stability make it suited for steam applications.
Applications of EPDM Gasket
EPDM is excellent for gaskets exposed to sunshine, water, and cold temperatures. EPDM gaskets with good compression set resistance recover well in occasional situations where a joint may open up. EPDM gaskets with strong electrical resistance may be suitable for some electrical installations.
Silicone is a high-performance material with a wide temperature range and exceptional flexibility in the gasket industry. In many cases, however, an EPDM gasket may be more cost-effective. It has a similar temperature range and is a stronger, more lasting material.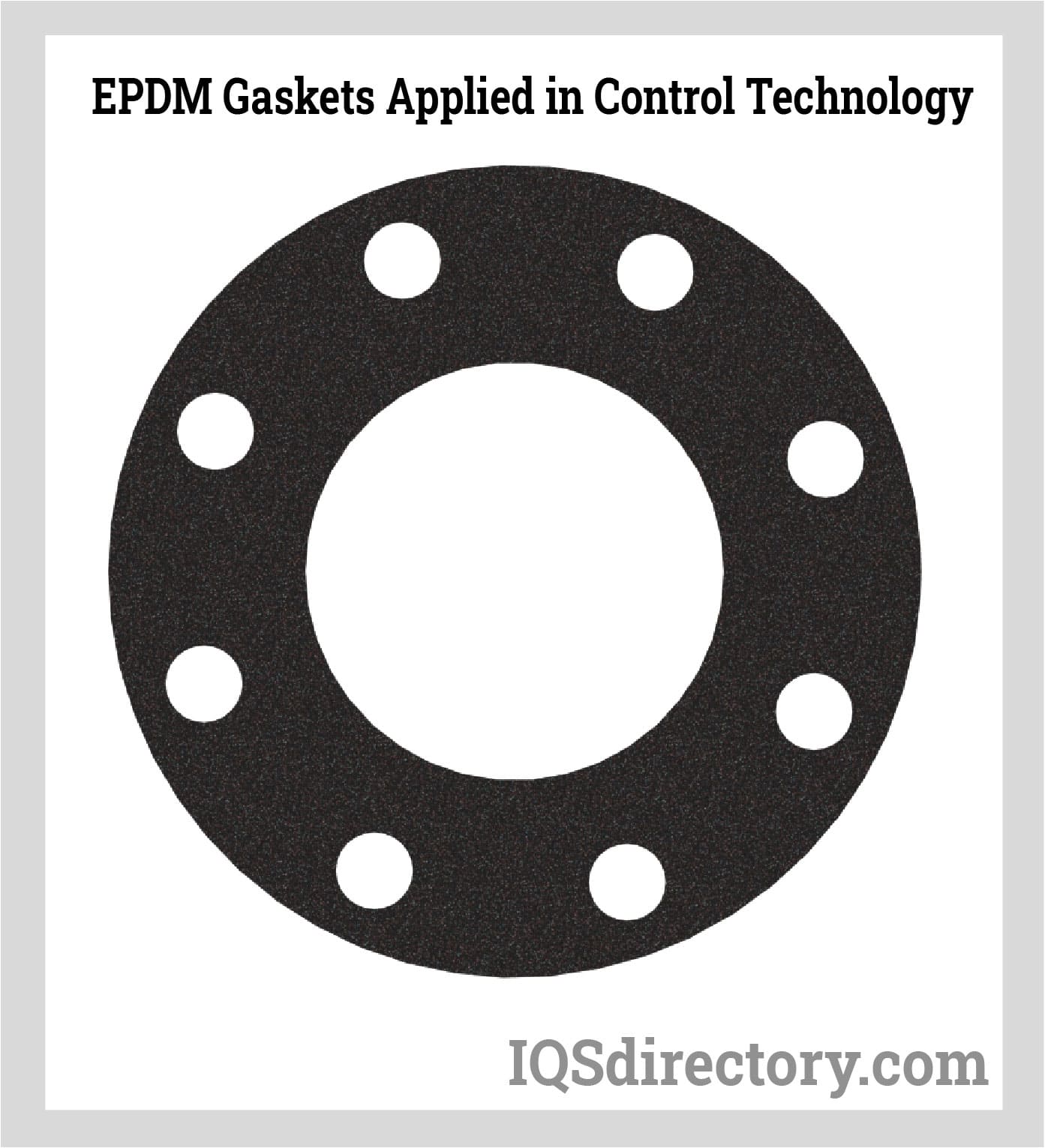 Selecting the Correct Exhaust Gasket Supplier
To ensure the most beneficial outcome when purchasing exhaust gaskets from an exhaust gasket supplier, it is important to compare several companies using our directory of exhaust gasket suppliers. Each exhaust gasket supplier has a business profile page highlighting their areas of experience and capabilities, along with a contact form to directly communicate with the supplier for more information or request a quote. Review each exhaust gasket company website using our patented website preview to quickly learn what each business specializes in. Then, use our simple RFQ form to contact multiple exhaust gasket suppliers with the same form.
Exhaust Gaskets Informational Video