Modern automobiles are frequently built with an engine block and cylinder head fastened on top. The engine block is an internal combustion engine casting that has been machined, and the pistons are housed in cylindrical, drilled holes in the casting. The cylinder head is home to components like valves and spark plugs. Read More…
Head Gaskets
Head gaskets are specially-designed sealing products used to seal the gap between engine blocks and cylinder heads in internal combustion engines.
A head gasket is located between the cylinder head and the engine block, acting as a crucial seal between the machinery. It seals the internal combustion process, preventing fluids from leaking or mingling. This is done for an automobile to develop the proper compression needed to maintain engine power. Additionally, it prevents oil or coolant from seeping elsewhere, preventing engine overheating and fire.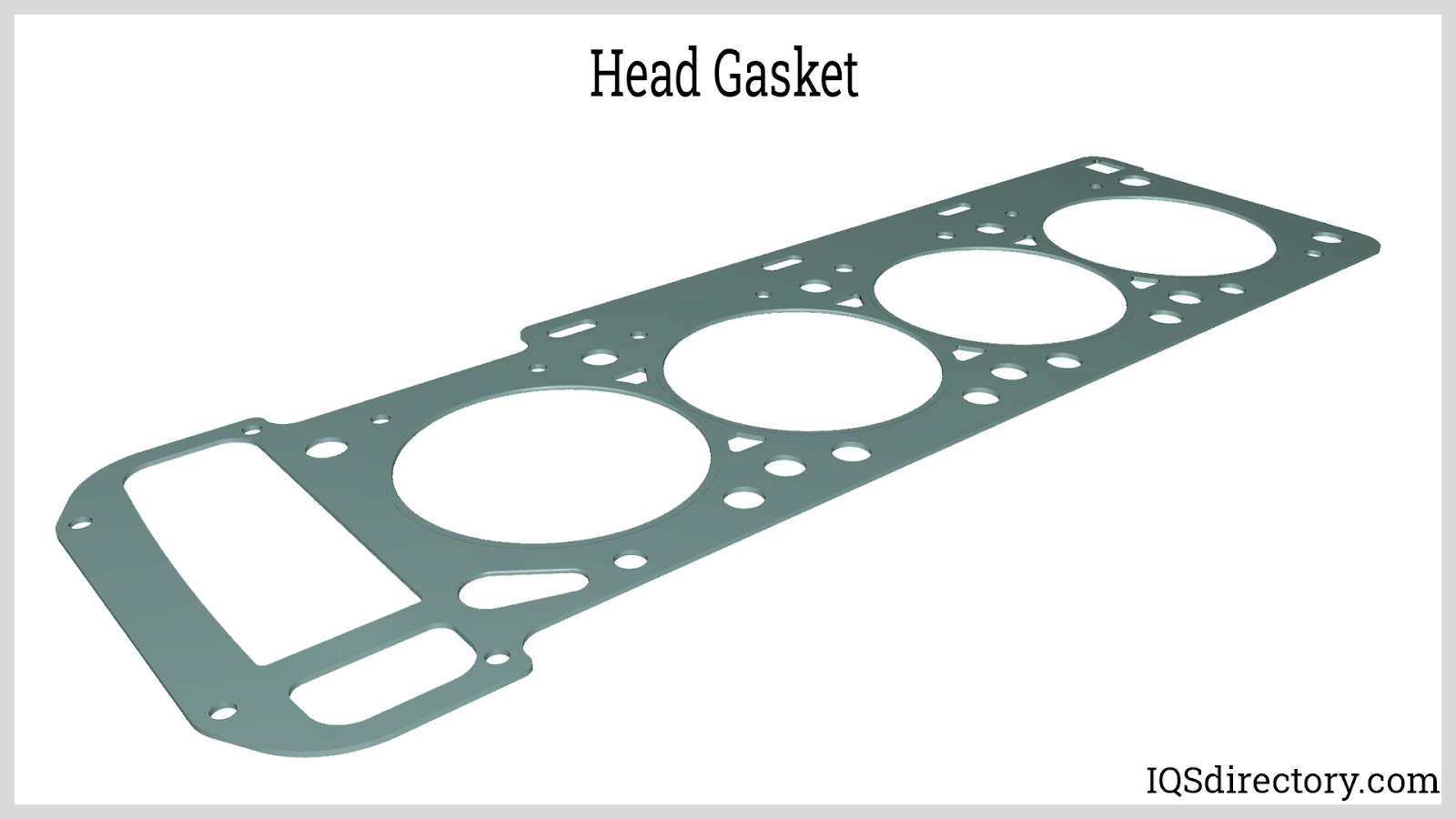 How Head Gaskets Work
Within the engine block, pistons move up and down inside cylinders. A rotating crankshaft linked to the pistons gives the car its power. The cylinder head, which is at the top of the engine, contains the valves that allow the air-fuel mixture to enter and leave the combustion chamber. The head gasket ensures that the compression produced by the ignition of the air-fuel mixture is maintained in the combustion chamber. This enables the engine to operate effectively and produce enough power for the car to move forward. The head gasket also ensures maximum engine performance and prevents overheating by preventing coolant or engine oil from leaking into the cylinders.
Types of Head Gaskets
Multi-Layer Steel Head Gaskets
Multi-layer steel head gaskets are the most popular kind, and they live up to their name by including numerous layers of steel. Two or three layers of steel can be found in some multi-layer steel head gaskets. An elastomer or glue links the various layers, and a gasket coating is applied to the surface. Multi-layer steel head gaskets are preferred because they can sustain more pressure than other types of head gaskets. For even more strength, these multi-layer steel gaskets can occasionally contain four or five layers.
Copper Head Gaskets
Despite their more challenging installation, copper head gaskets have several appealing properties. Due to its equal heat distribution, copper is less likely to warp than steel, yet it has a high tensile strength or resistance to breaking when stretched and twisted. In addition, because copper is more malleable than steel, it can adapt to irregular surfaces like engine blocks. Finally, due to their longevity, copper head gaskets are frequently used in high-performance engines, such as those seen in racing vehicles. Solid copper head gaskets offer unparalleled protection against leakage, but their installation calls for further care and the use of o-rings. To separate the engine block from the cylinder head, a copper head gasket is installed using a specialized device called an o-ringing machine.
Composite Head Gaskets
Despite being hardly used today, composite head gaskets were a common part of many cars produced in the 1980s and before. Although graphite is a robust material, it does not provide the same level of leak protection as other materials, which is why composite head gaskets are often formed of this material. As a result, most manufacturers have discontinued using composite head gaskets in their product line-up.
Elastomer Head Gaskets
Elastomeric head gaskets are distinguished from other types by their steel core with elastic beads. A typical elastomeric head gasket is made of a big, flat sheet of hardened steel covered in beads of elastomeric material resembling rubber. The elastomeric beads seal the coolant and oil passageways, preventing leaks that could harm the engine.
Properties of a Good Engine Gasket
Resistance to Unfavorable Conditions: To withstand hammering and fluids from the engine, a head gasket needs to have exceptional tensile strength. Because it is located next to the combustion chamber, the head gasket must also withstand significant temperature variations, ranging from 500 degrees Fahrenheit (260 °C) when operating in the summer to below freezing when sitting overnight in the winter. Finally, the intense pressure generated by the combustion process behind the head gasket must also be tolerated.
Malleability: To prevent liquid from leaking through the barrier, the head gasket must perfectly seal the gap between the engine block and cylinder head. The high strength material must have extremely tight flexibility to conform to uneven surfaces.
Openings: A head gasket is not a solid metal piece. It has openings for cylinder heads, bolts, and studs. These apertures need to be precisely constructed to fit the engine.
Impermeability: Whenever the engine runs, oil and coolant collide with the head gasket, testing it for entrance to the combustion chamber. A well-sealed head gasket suppresses leaks every second the car is in motion.
Chemical Resistance: A head gasket loses its ability to safeguard the engine if it erodes due to the frequent spraying of chemicals, regardless of how robust, flexible, and firmly sealed it is. Burning fuel, coolant, oil, and other combustion byproducts pose chemical threats to head gaskets.
Choosing the Right Head Gasket Supplier
To ensure the most beneficial outcome when purchasing head gaskets from a head gasket supplier, it is important to compare several head gasket suppliers using our directory of head gasket suppliers. Each head gasket supplier has a business profile page illustrating their areas of experience and capabilities, along with a contact form to directly communicate with the supplier for more information or request a quote. Review each head gasket company website using our patented website previewer to quickly learn what each business specializes in. Then, use our simple RFQ form to contact multiple head gasket companies with the same form.
Head Gaskets Informational Video